T-shirt: Kaskeflott, All-Elin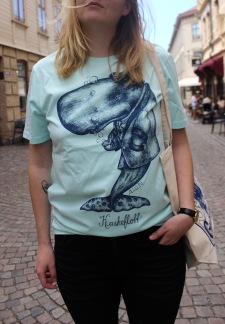 Ord. pris:
380 kr
190 kr
Inkl. 25% Moms
Art.nr:
P1928971
Du sparar:
190 kr (50%)
Antal:
Tyrquois t-shirt (on the model the color is slightly darker than existing t-shirt) in sustainable cotton, printed in Gothenburg and illustrated by designer Elin Andersson.

Kaskeflott is a play on words:
Kaskelott: Sperm whale
Flott: Fancy/dapper

Straight fit in a unisex model.

Johanna is 173 cm tall, and usually wears size M. Here she is wearing size M.