My best friend and companion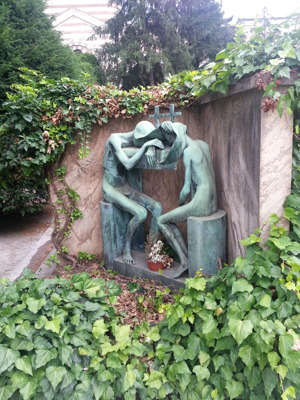 I remember thinking it sounded exaggerated when a teacher once said when I was still a student that working as a designer often means very little social life, but now I understand. If you really want to dedicate yourself to creating a life out of your passion it becomes your best friend and partner and you want to be there for your friends when they need you. For better or worse. Til death do us part?

This image might seem a bit dark as an illustration for these thoughts about the future, but the words I ended with links them together. The cemetary in Milano is such a beautiful and peaceful place that really inspires me with its amazing sculptures and nature. There is something both fascinating and haunting about the one I chose here; I can stand in front of it while thinking about the relationship between the two and wondering why they are connected the way they are with a piece of cloth on their heads. I don't think I will ever find out, and not sure I want to either.
-E
Natalie » A new beginning: "I can't wait to see what you come up with! You are so talented and SI love your .."