The beginning of my future.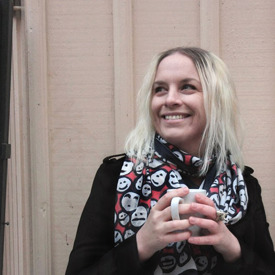 During spring 2013 I took the decision to quit my current job and start focusing on creating something of my own. Since what i did at that time was and is the dream for many, I understand that this might have seemed strange for people I told about it. The thing is I never really doubted that what I did was right and it had grown insode for a few years, or maybe my whole life.

So I left Italy where i had lived for 7 years and worked full time the last 4 of those, and headed back to Sweden. The forst months I was still connected to my old office and we tried some freelance, but in the end it's hard to produce prints for fashion unless you're there and can participate in the discussions with the designers (I worked in the graphic office), and we decided to terminate the arrangement at christmas even though I did manage to design a few things from a distance.
2014 followed and was one of the hardest years of my life without exaggerating; hardly any money, no connections in my main industries (fashion and graphic design), working from home without collegues, being my own boss and deciding for myself how to manage my days. I will write a whole section only about the transformation of the mind I had to go through before I finally ended up realizing I have become an entrepeneur. The biggest part happened while running a crowdfunding campaign and fighting to get a budget and then all the organisation that followed after it closed successfully.

When I look back it feels like I was stuck at my desk or around my house, but i actually managed to build the base for the business I will be running from now on. It became obvious when I recently had to write a business plan and it ended up 15 pages long full of clear ideas concerning the steps I'm planning to take in the future; this kind of shocked even myself and I'm glad i had to force myself into doing this.

I'm now at a point where I am almost ready for a new crowdfunding that i will use for production towards a client, the money from this summer went to the prototypes, and I'm actually not scared or confused anymore even if i get nervous while reading all advice you can find online. During fall I started to get visions of how my future shop is going to look like, all details in the interiour, and I only know one thing 100% sure:

I cannot go back to being emplyed without really giving all i have into this brand I sometimes call my baby. I gave birth to it, and now it's my responsability to make sure it become a decent "individual".

- Elin
Natalie » A new beginning: "I can't wait to see what you come up with! You are so talented and SI love your .."